There are three different ways to play multiplayer on Minecraft Java. LAN servers, online servers, and Realms. Here's how to do all three!
How to Make a Minecraft LAN
LAN stands for local area network, and it is where other players who are on your WiFi network can play on your world. All players must be on the same version of Minecraft. Do the following to make your own LAN server.
Choose a computer to host the server. This computer should be powerful enough to run Minecraft on its own, while also running the online server for other players.
The server host will go into Single-player, then select the world they want other players to join them on.
Once on the server, the host will need to open their game menu by pressing "esc"
Then they will press "Open to LAN"
All other players can join the LAN by going into their Multiplayer menu.
Within a few moments, their game should detect the LAN and it will show up on the top of their server list! Click it to join.
How to Join an Online Minecraft Server
Online servers are public servers that typically have a lot of mini-games to choose from. These servers are specially coded just for other players to play games, each server has their own unique games and style. To join an online server, you will first need to find one. There are many server websites you can look up!
Once you find a server, you will need the IP address. Usually, the IP address resembles a website. For example, the IP address for Hypixel is hypixel.net. Mineplex is mineplex.com. Some smaller servers might have longer addresses! Here's how to join any multiplayer server.
First, click on "Multiplayer" on your Minecraft home screen.
Once you're in the multiplayer menu, you click "Direct Connect"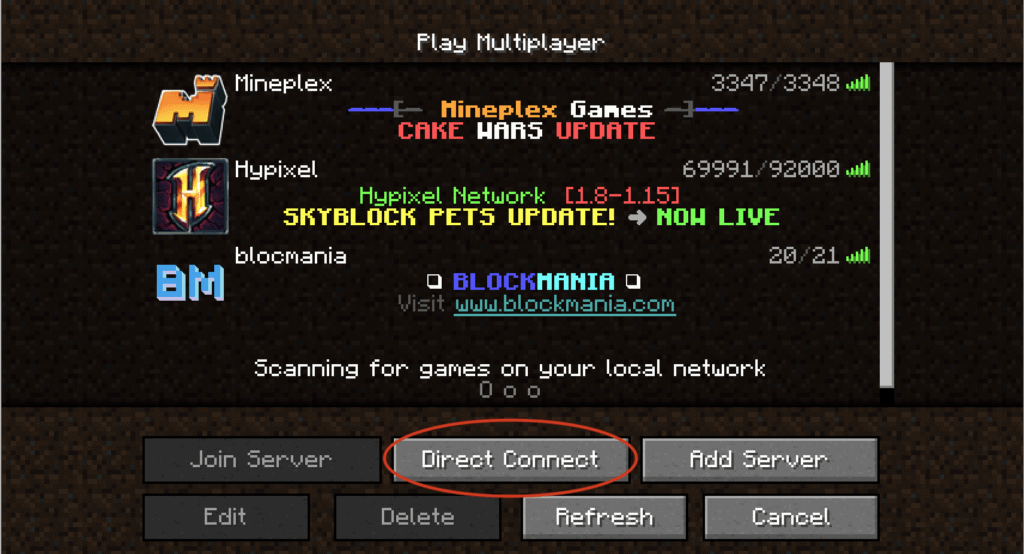 In the direct connect menu, type in the IP address.
Click "Join Server" and you'll be connected!
If you like the server, you can add it to your server list by clicking "Add Server" in your multiplayer menu.
How to Make a Realm
A Realm server is similar to both an online server and a LAN server. Realms are servers that you can purchase at the Minecraft Realms website. These servers are always online, and they are private, so you can have a personal server for just you and your friends. To make a realm, you will need to:
Once your plan is set up, you will click on "Minecraft Realms" on the Minecraft home page.
Once in the Realms menu, you will be able to see your Realm and other Realms you have been invited to. If there is a green light next to the Realm, that means the Realm is online and you can play. If there is a red light, that means the Realm is down. If no lights are on, the Realm has expired.
Click on the Realm to join!