After spending countless hours in hundreds of randomly-generated Minecraft worlds, I always loved finding the most unique and beautiful world generations. That's where seeds join the game. So, let's look at some of the best Minecraft seeds.
What Are Minecraft Seeds?
Minecraft seeds are just numbers that determine how your world will look and where you'll spawn. There are quintillions (or more than a billion billions) of different seeds in Minecraft, so you've got a vast array to choose from.
How to Create a Minecraft World Using a Seed?
Creating a specific Minecraft world with the help of a seed is pretty straightforward:
Once you launch the game, click on Singleplayer.
Select the "Create New World" option.
Creating a new world in Minecraft
Click on "More World Options…".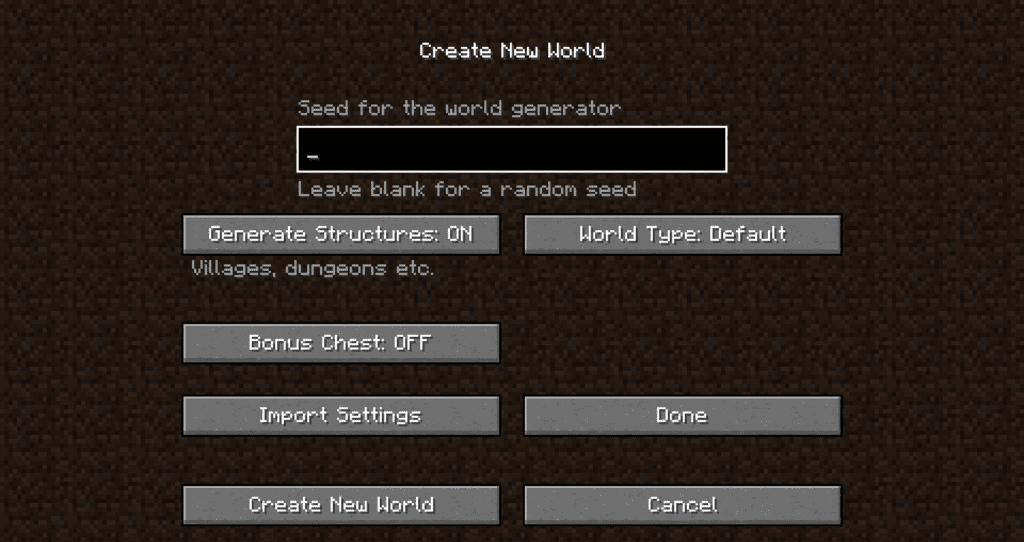 Using a custom seed for the new world
Input your desired seed and click on the "Create New World" option.
Now that that's out of the way, let's check out some of the best Minecraft seeds in 2022.
My 10 Best Minecraft Seeds
1. -5070646106796745748: Ancient City Seed
An Ancient City Below Spawn
Check out this seed if you don't want to walk thousands of blocks to find the closest ancient city. The Warden's kingdom is located right under your spawn point, so you'll be able to get some good loot pretty early.
2. -1696067516: 1.19 Panorama Seed
The 1.19 Update Panorama
Do you like the new 1.19 panorama? Well, you can find it on this seed by going to the following coordinates:
X: 3820 Y: 67 Z: 553
3. -692133274509924: Jungle Archipelago Seed
A Deserted Jungle Archipelago With a Lava Heart
A survival island challenge with a shipwreck and a jungle biome? This seed should be easy pickings for veteran players. You'll not even need a map!
4. 1260294347: Jungle Lake Seed
A Jungle Lake Covered by Mountains
If all you want is an incredible landscape with a lush cave close by, check out this seed. To find the exact spot, you'll need to go to the following coordinates:
X: -13911 Y: 64 Z: 6398
5. -8496124488663064751: Village Island Seed
A Village Island With a Shipwreck
What would Minecraft look like if it was a pirate game? Well, this seed is the answer you're looking for. And, you'll also have a village to ransack.
6. 1278040446: Meadow Hills Seed
A Lake Surrounded by Meadow Hills
A huge lake with trees everywhere, a dripstone cave nearby, and sky-high hills to keep you safe? Sign me up for this one! Here are the coordinates:
X: 411 Y: 76 Z: -742
7. 711665382642744035: Lush Cave Seed
A Hollow Spawn With a Big Lush Cave
While lush caves became smaller with the newest update, this seed proves that there are still some pretty large ones. Plus, you'll have a vast mineshaft to explore.
8. -3777870885386682256: Crater Seed
A Jungle and Meadow Crater
Jungle or Meadow biome? With this seed, you don't have to pick one. And, you'll have a small lake in the middle to separate them. The coordinates are:
X: 709 Y: 64 Z: 287
9. -1820780390: Ocean Cliff Seed
An Ocean Cliff Surrounded by Frozen Peaks
With the Ocean on one side and the Frozen Peaks on the other, you've got all you need for a Minecraft lifetime.
10. -744499654: Mountain Seed
A Mountain Overlooking a Beautiful Valley
With this seed, you'll get a large valley to gather your materials and a massive mountain to build your base. What more do you need?
Conclusion
These were just some of the best Minecraft seeds I could find. Be sure to post your favorites on the seed thread on Minecraft Station.